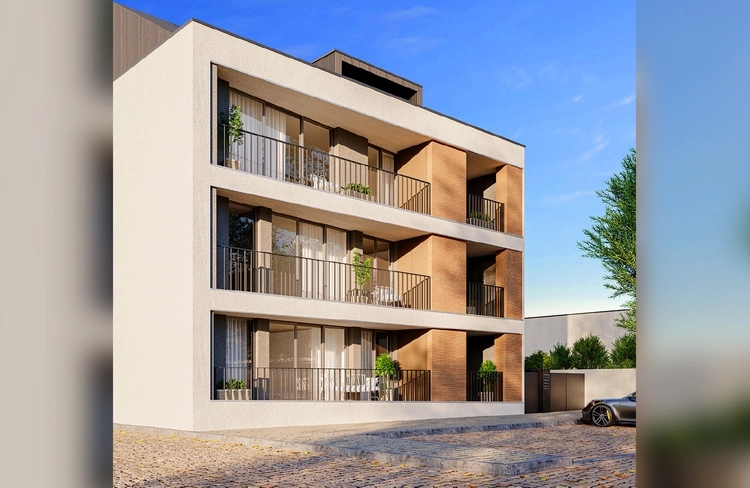 Vi'llar is the name of the new project with Ponto Urbano signature. Located in São Bernardo road, in the parish of Glória and Vera-Cruz, this new building is only five minutes away from the centre of Aveiro, ensuring its residents the benefits and perks necessary to live an undeniable lifestyle.
V'llar is made up of six two and three-bedroom flats, with areas varying between 97m² and 180m². This building has balconies, embraced by natural light that allows its residents the freedom to breathe fresh air. It also has a garage and storage room on the ground floor and, private parking, thus architecting the best solutions for you.
The building is demarcated by discrete and soft textures, by light and neutral tones, which balance with its framework, combining design, comfort and functionality in the same project. The preference for the modern and the cosy is visibly present, presenting a union between the contemporary and the practical, being a unique architecture, with maximum attention to every detail.
The building is in contact with the surrounding nature and, as far as proximity is concerned, services such as the E.B 2/3 S. Bernardo, the Glicínias Plaza Shopping, the Ribeira de Vilar and the EN 109 road. A small refuge that provides a pleasant and natural balance.
In this way, it stands out as a sophisticated and modern building that offers the necessary comfort and security for a peaceful day to day life, as well as an urban and luxurious character for a challenging day to day life.
Based in Aveiro, Ponto Urbano has been responsible for a number of landmark construction and urban rehabilitation projects, with ten projects currently underway.
A union between the contemporary and the functional.